How to authenticate your domain to send email campaigns on Simpu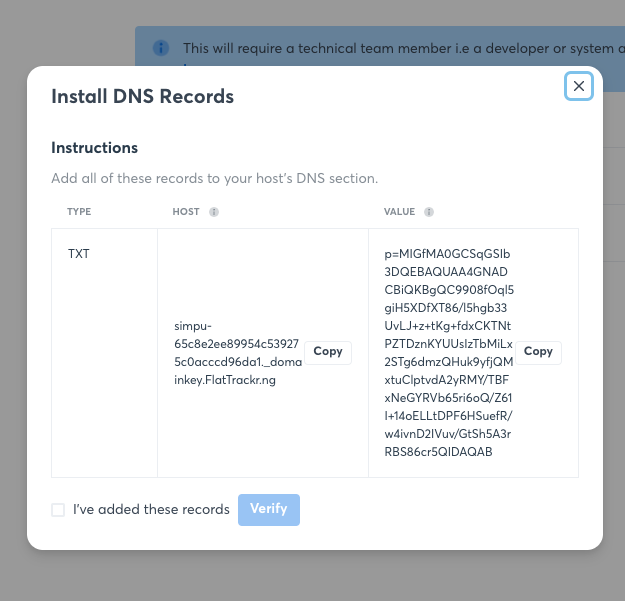 Related Articles

How to authenticate your domain, to enable email forwarding

OVERVIEW Authentication of the domain is necessary when you want to use Simpu inbox. If a customer uses any Email client other than Gmail or Outlook, the domain needs to be authenticated. If your domain is not authenticated, you will not be able to ...

Setting up email footer build for email campaigns on Simpu.

Overview The email footer on Simpu is a section that is appended to the bottom of an email, it displays copyright information, the year of the email, the company address, and the unsubscribe button. How it works on Simpu Step 1 On the settings page, ...

Deleting Authenticated Domain

How to Remove/Delete Authenticated Email Domains in Simpu If you need to remove or delete authenticated email domains from your Simpu account, follow these simple steps to ensure a smooth process: Step 1: Log In to Your Simpu Account 1. Go to the ...

Connecting an email forwarding channel in Simpu inbox

Overview Simpu Inbox allows you to streamline your email communications by consolidating multiple email addresses into one unified platform. This guide will walk you through connecting an email forwarding channel in Simpu, enabling you to receive and ...

How to compose, send, and customize messages

Overview Creating a message in Simpu is incredibly straightforward! The convenient blue Compose button at the top of your inbox is a centralized hub for composing messages across various communication channels linked to Simpu, such as email, SMS, and ...