Overview
In this guide, we will walk you through the process of creating a Zoom meeting link using the Zoom integration within your Simpu Inbox. Before you get started, please ensure that your Zoom account is integrated with Simpu. This is a crucial step for making the integration work seamlessly.

Note: Make sure you have administrative access to your Simpu and Zoom accounts.

Integrating Zoom with Simpu
To integrate your Zoom account with Simpu, follow these steps:
1. Log in to your Simpu CRM account.
2. Navigate to your Inbox Settings, then
3. Look for the Zoom integration
option
and click on it.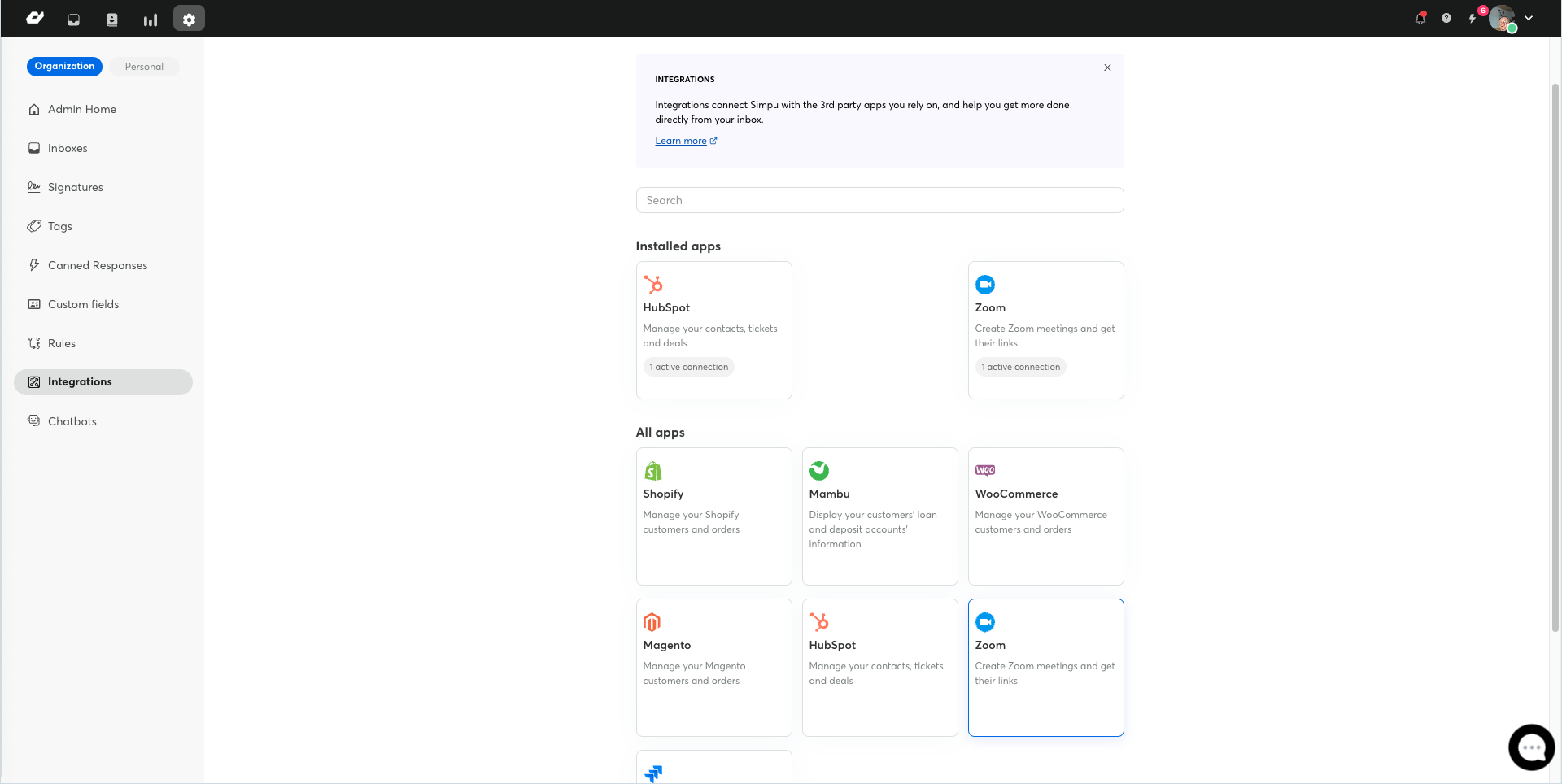 4. You will be prompted to log in to your Zoom account. Follow the on-screen instructions to grant Simpu access to your Zoom account.
5. Once the integration is successful, you should see a confirmation message.
Creating a Zoom Meeting Link in Simpu

Now that your Zoom account is integrated with Simpu, you can easily create a Zoom meeting link from within Simpu:
1. Log in to your Simpu account .
2. In Simpu, select a conversation, the Zoom icon should show in the right-hand sidebar. This is where you can schedule your meetings.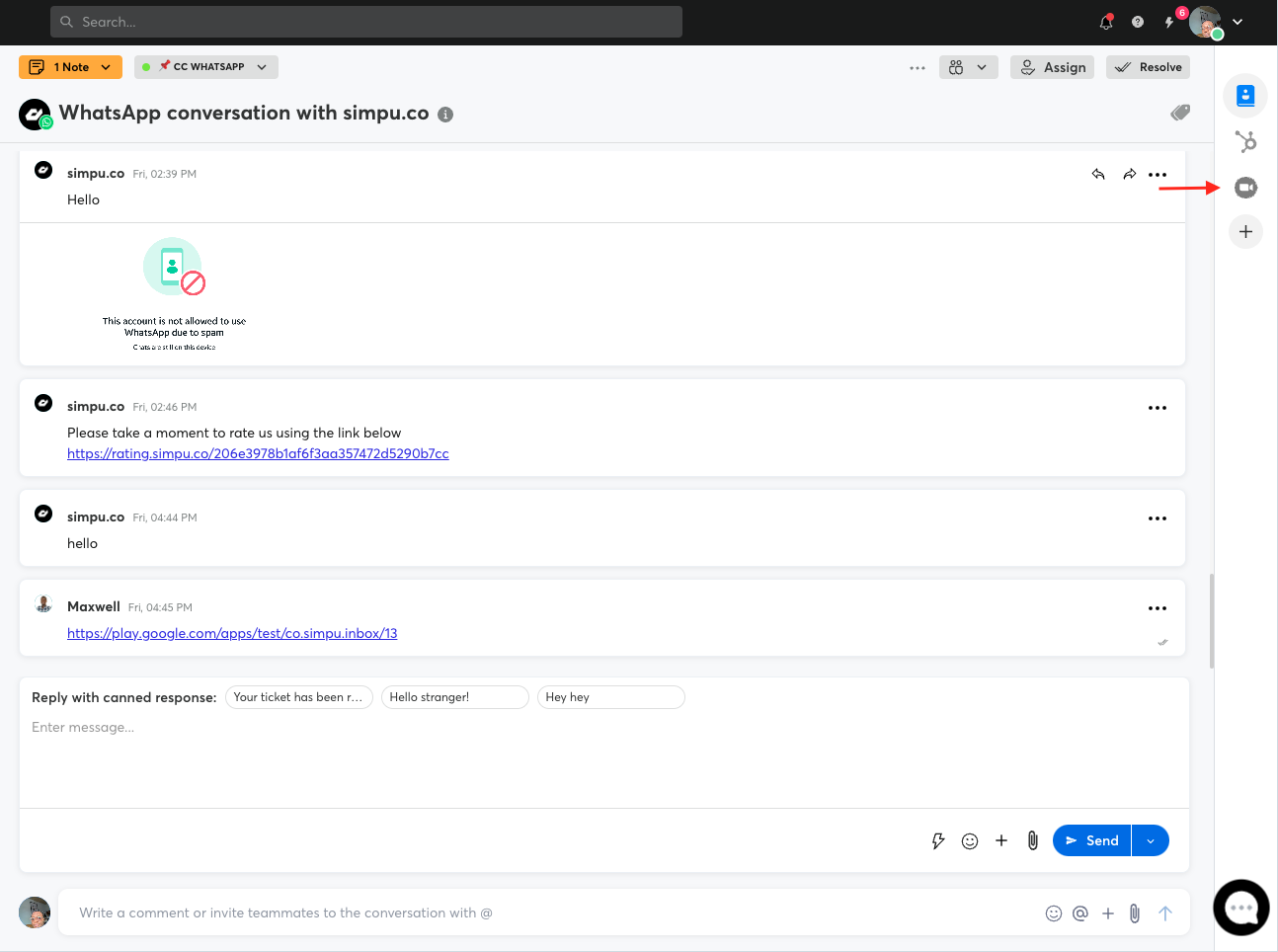 3. Click on the Create meeting button.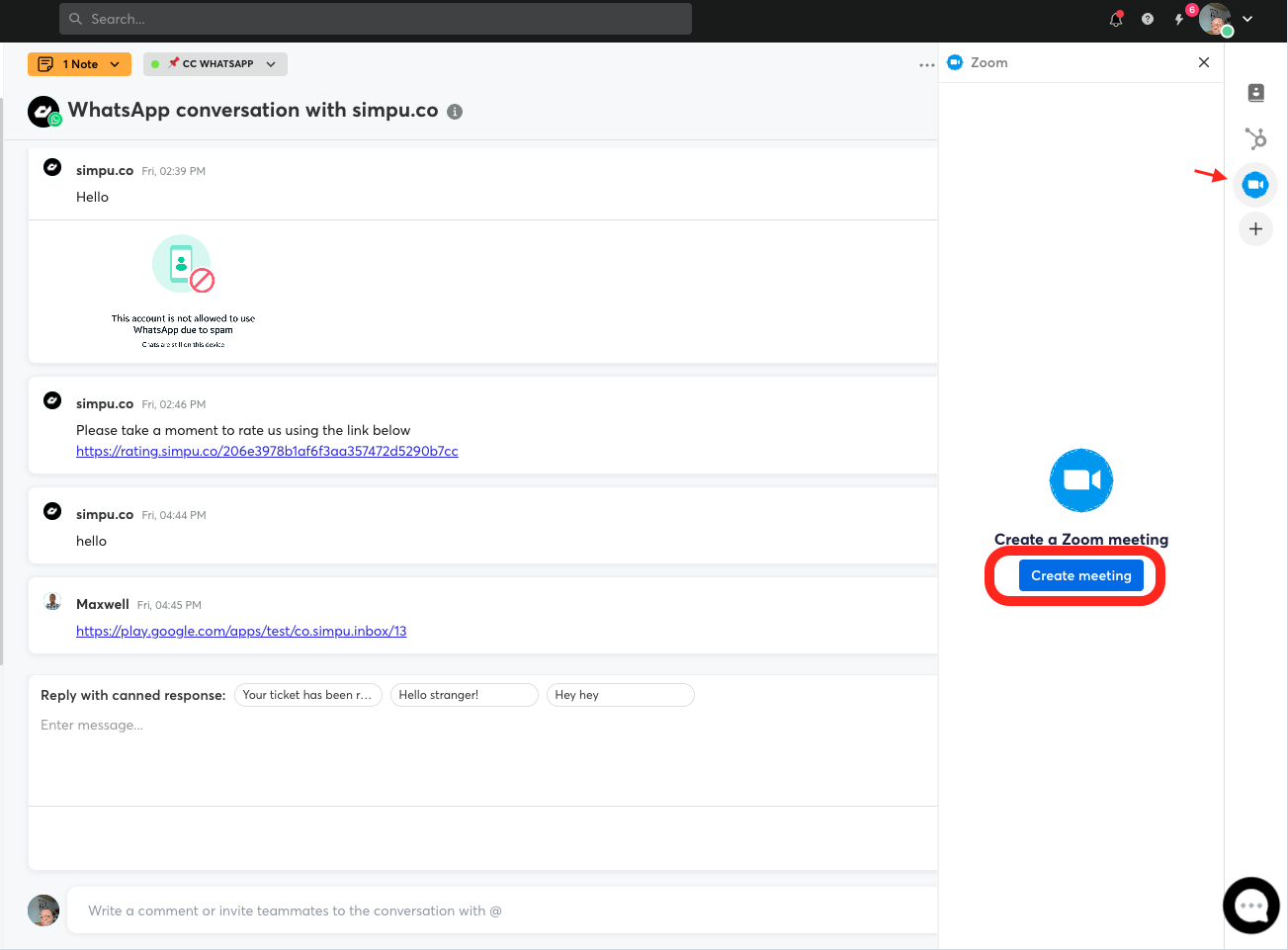 4. Fill out the meeting details, including the meeting name, and other relevant information.
5. Click the "Create" button. Simpu will automatically generate a unique Zoom meeting link for this event.
6. Simpu will provide you with the Zoom meeting link, which you can share with participants.
Sharing the Zoom Meeting Link
After creating the Zoom meeting link, you can share it with your meeting participants using various methods:
- Email: Send the link via email directly from Simpu to all participants.
- Copy and Paste: Simply copy the Zoom meeting link from Simpu and paste it into any communication method you prefer, such as messaging apps, SMS, or your CRM.
And that's it! You've successfully created a Zoom meeting link using Simpu's integration with Zoom. Now you can efficiently manage and schedule Zoom meetings within your CRM to improve your communication and collaboration with your clients and team members.